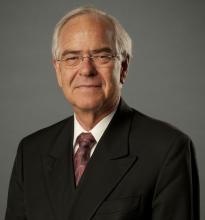 Alberta Prion Research Institute
Dr. Kevin Keough is currently the Executive Director of the Alberta Prion Research Institute. Prior to joining the Alberta Prion Research Institute, Dr. Keough held various senior positions within the research sector, including: President and CEO of the Alberta Heritage Foundation for Medical Research; the first Chief Scientist at Health Canada in Ottawa; and the first Vice-President of Research and International Relations at Memorial University of Newfoundland. He is also co-founder, President and Chief Scientific Officer of NovaLipids Inc., the Principal of Kevin Keough Consulting Inc., and a Fellow of the Canadian Academy of Health Sciences. He has had an active career in research for nearly fifty years.
Dr. Keough has been a member of the Boards of Directors of a large number of agencies and not-for-profit corporations, and is currently the Chair of the Board of the Science Media Centre of Canada. He was recently appointed as a Vice-Chair of an Independent Panel charged with advising the Government of Newfoundland and Labrador about the status and future of the provincial Public Postsecondary Education System. He is a Director of the Edmonton Space and Science Foundation and recently served on a city working group that led to creation of a secretariat to promote health research and innovation activities in Edmonton. Dr. Keough has served as a consultant to national and international research organizations, the pharmaceutical industry and to various levels of government. He continues to participate in research-related activities and is frequently consulted on issues of science and innovation policy and management by academia, government and the private sector.